Event Information from the Ticonderoga Area Chamber of Commerce:
The Ticonderoga Area Chamber of Commerce in coordination with area businesses and organizations will host the annual Holiday Shopping & Dining Night on Friday, December 2nd as part of the 7th Annual Ticonderoga Area North Country Christmas Celebration. Shopping and Dining Night is an opportunity to take advantage of great specials and promotions, support Ticonderoga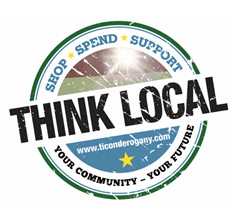 Area Businesses, visit the Holiday Farmers Market, listen to live music, take a horse drawn wagon ride, and get into the holiday spirit.
Participating businesses will have a Shopping & Dining Night Snowflake displayed.
Live holiday music will be provided by the Ticonderoga Central School Music Departments throughout Downtown Ticonderoga.
Free Gift Certificate Raffles will be available throughout Downtown Ticonderoga organized by the Ticonderoga Montcalm Street Partnership.
In addition Horse Drawn Holiday Wagon rides will be available starting at the Ticonderoga Heritage Museum from 6:00 to 8:00 PM. Sponsored by Gin's Redemption Center.
For the second year the Ticonderoga Area Farmers' Market will have a Holiday Farmers Market on Friday, December 2nd from 5:00 – 9:00 PM at the Chamber Office in Downtown Ticonderoga. Farmers and vendors will be set up inside the Chamber offering a variety of local products.
We encourage people to Shop & Dine Local within the Ticonderoga Area on Friday, December 2nd and throughout the year. This is a wonderful night of Holiday magic. We hope you will support the many wonderful businesses throughout the Ticonderoga Area. I would like to thank all of the participating businesses and volunteers who make this event possible. Please show your love for your community. Support your community, friends, and neighbors. Each purchase made locally makes a huge impact. Think Local. Shop! Spend! Support! Your Community – Your Future. If the events this year are well supported we are thinking of adding a Parade of Lights of 2017.
For a complete list of participating businesses, specials, and promotions contact the Chamber office. Shopping & Dining Guides will be available at the Chamber Office, online, and at area businesses.
Save
Save
Save
Save
Save