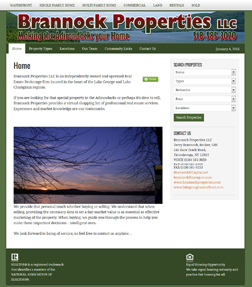 If you are looking for Ticonderoga real estate, that special property in the Adirondacks or perhaps it's time to sell, Brannock Properties provides a virtual shopping list of professional real estate services in the Adirondack region. Lakefront property, residential homes for sale in Ticonderoga and the surrounding region, commercial real estate and buyer services for first time home buyers and experienced buyers.
Experience and Upstate NY real estate you don't market knowledge are our trademarks.
We provide that personal touch whether buying or selling. We understand that when selling, providing the necessary data to set a fair market value is as essential as effective marketing of the property. When buying, we guide you through the process to help you make those important decisions – intelligent ones.
Call (518) 585-3020 today and let us help you start the process of buying, selling, or relocating to Ticonderoga, Crown Point, Hague, Silver Bay, Port Henry and the Champlain Valley.